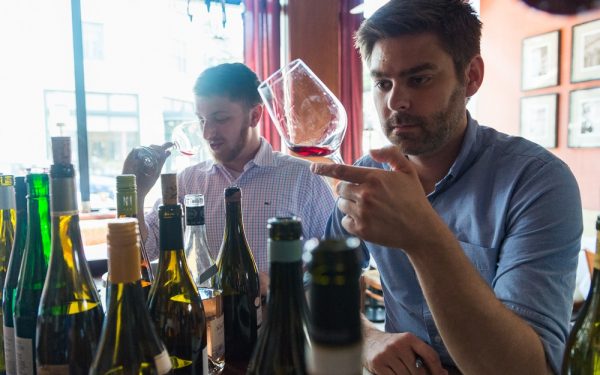 By Nicole Dupuis
Just as ten years ago, the farm-to-table and fine dining culture in Rhode Island was only just beginning to take root, Rhode Islanders are now turning increasingly towards more unique and exciting wines, with an eye for quality and an appetite for experimentation.
This shift in Rhode Island's drinking culture led to Gracie's hiring of Alan Freudeman in 2013, our current Wine & Beverage Director, who at the time took over as Wine Educator for the newly developing wine program. At Gracie's, our beverage program is curated with our food at the top of mind—everything must work together to create a perfectly harmonized tasting experience that elevates our cuisine to center stage.
"We choose wines, and my driving mission is to find gems, wines that are special, and every bottle should overdeliver. " Alan noted, "which is very important to us. We focus on stories and smaller products. Every bottle in this building has a place."
Alan was certified as a sommelier by the Court Master of Sommeliers in April of 2016, and was recently joined by John Cappiello, now our second Certified Sommelier on staff, in November 2016. It has been highly rewarding to have not one, but two people collaborating behind the scenes to develop our beverage program! Having two trained wine stewards on staff has enhanced not only our service, but our ability to educate and inform our staff—which in turn, makes for a better guest experience. Alan and John are working in sync to create a unique and special experience that leave our guests doubly happy.
John, who also serves as a floor captain at Gracie's, came to his sommelier certification by way of a special scholarship fund that was started by Alan on behalf of Gracie's. Each year, interested employees can apply to the fund and Gracie's will sponsor their participation in the introductory sommelier course. John was the first person that we extended this offer to, and he simply ran with it, certifying and passing on the first try! The scholarship fund is a wonderful way to provide extra training to our team and give staff opportunities that they may not have pursued otherwise. We are thrilled to be able to add John's expertise and breadth of knowledge to our wine and beverage program, which we are looking to develop in new directions in the coming years. John has currently been helping to grow the wine list, and over the next year, we look forward to seeing some of John's style, interest, and input reflected on the menu.
Alan and John make a dynamic duo when it comes to leading the charge in developing our beverage program. John is able to mine his experiences traveling for the prestigious Kopf Scholarship, which he was awarded in 2016. This 'opportunity of a lifetime' award earned him an all expenses paid two month journey through Italy, France, and California, where he studied winemaking, viticulture, and taste through some of the most famous and treasured wines in the world. John's keen sense of the wines of these regions remains unparalleled among our staff.
Alan, on the other hand, is working on some upcoming trips to domestic destinations like Michigan and Texas, as he hopes to highlight unique and lesser-known wine regions across the United States. Part of his trip to Texas will involve a visit to Regan Meader of Long Island's former Southold Farm + Cellar, who has since moved his operations to Texas. We are able to pour and offer a lot of the unique wines on our list precisely because of these personal connections that Alan has cultivated over the years.
Be sure to stop in this summer and try some of the brand new finds that we are adding to our list, such as pours from the Jura region of Eastern France, Italian reds and whites, and Spanish whites that are perfect for summer