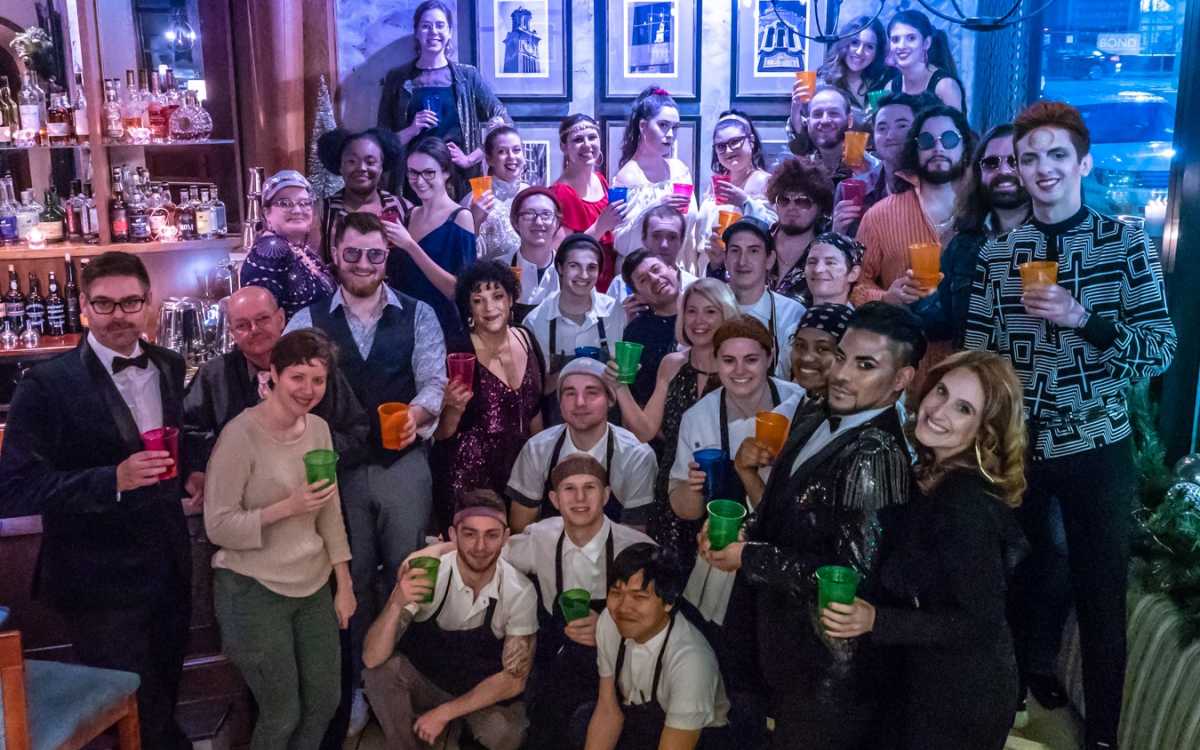 To enhance and educate the palate with the freshest ingredients and flavors. We strive to surprise and excite each guest with personal care and service.
Chef Matthew Varga, Executive Chef
Chef Varga is from Connecticut, where he would spend his childhood days crabbing, fishing, and soaking in the aromas of his family's busy kitchen. He began his culinary training by taking food and baking classes in high school, and started his first job in a restaurant at the age of 16. Chef Varga attended Johnson & Wales University, where he received his associate degree in culinary arts in 2003, and his bachelor's degree in food service management in 2005.
Chef Varga began working at Gracie's in 2007 and was promoted to Executive Chef in 2010. Since then, Gracie's has won the AAA four-diamond award five years straight and received three Diner's Choice awards from Open Table. Chef Varga has been featured in Art Culinaire and as a guest chef for the Democratic Governors Association Taste of America gala.
Ellen Slattery, Proprietor
Ellen grew up cooking in her family kitchen, where she developed a passion for feeding people. She carried this passion from her home kitchen, through a four-year psychology degree, then to culinary school at Johnson & Wales University. She opened Gracie's on New Year's Eve in 1998. At Gracie's, she is known for building a team that is excited about culinary artistry, wowing guests, and championing locally sourced food. Most nights, she can be found working the line, chatting with guests, or encouraging her staff to "wish it, dream it, do it."
In 2012, she opened Ellie's as an extension of the bread program at Gracie's. With Ellie's, Ellen and her team strive each day to stand out in the community as a loyal, soulful, nourishing neighborhood eatery.
Kendal Fitzsimmons
Private Events Director
Kendal Fitzsimmons is our link to local culture. She grew up on the south coast of Massachusetts and has never found herself away from the ocean for long. This gives her an inside edge for event planning in the Ocean State. In fact, she has been coordinating plans, parties, and vacations as long as she can recall.
Kendal graduated with a degree in Public Relations from the University of Rhode Island and worked at the Hyatt Regency Newport as their events coordinator for four years.
Her passion for detail and love of food makes Gracie's the ideal place for Kendal to achieve her goal of exceeding guest's expectations and bringing each client's unique vision to life.
Alan Freudeman
Director of Operations
Alan Freudeman has 20 years of experience in the restaurant industry. He began working in restaurants while in college for theatre in Ohio. He tended a bar and managed restaurants in Cleveland, and moved to Rhode Island in 2006 to attend Johnson & Wales University. While at JWU, Alan worked as a server and line cook at Gracie's. In 2010, he assumed the role of Chef de Cuisine at Ama's in Providence.
Alan returned to Gracie's in 2013, where his knowledge and passion for wine led him to serve as our staff wine educator, where he expanded the wine program to showcase unique wines from the regional United States and established a scholarship fund for teammates to take the Introductory Sommelier course and exam. In 2015, he stepped into the position of Wine & Beverage Director, and in 2019, he accepted the position of Director of Operations. Beyond service and hospitality, Alan is passionate about improving the lives and working experience of his colleagues and teammates in the Hospitality industry.
Anat Sagi
Service & Hospitality Director
Anat Sagi truly has a lifetime's worth of wisdom in this industry. As early as age 9, she started answering phones and taking reservations at her aunt and uncle's French restaurant in Brookline, MA, where her passion for hospitality began to bloom. In the 37 years that followed, Anat has amassed experience in almost every corner of the restaurant industry, from being a server and running events to assisting with marketing and the opening of new establishments. Anat joined the Gracie's team in 2015 as a server, and now assumes the role of Gracie's Front of House Manager, a position that it has been a true pleasure to watch her grow into.
Born in Israel, Anat's passion for people also derives from her cultural background, where people are naturally warm, giving, and present and the table is the perfect place around which to engage. Anat seeks to develop these values, which she holds dear to this industry, within her service team, so that they in turn may enhance the guest experience with personalized care and connection.
Anat's commitment to growth, to cultivating relationships, to expanding her and her team's knowledge and skill sets, and to elevating operations to consistently greater heights makes her the perfect person to lead the charge as our Front of House Manager!
Karissa Bednarz
Pastry Chef
Karissa Bednarz hails from Long Island, New York, where she grew up baking with her grandmother and aunts and loved every second of it. When she toured Johnson & Wales as an aspiring college student, she just knew that she was right where she belonged and got everything she could out of her pastry classes, eventually graduating with a Bachelor's degree in 2017. Karissa also had the opportunity to attend ENSP, Alain Ducasse's pastry school in Yssingeaux, France
After JWU graduation and a brief return to New York, Karissa found herself back in Providence where she accepted a role as Gracie's Pastry Sous Chef. In 2019 she embraced the role of Head Pastry Chef here at Gracie's, where she strives daily to invoke joy with her creations and loves taking advantage of local, seasonal ingredients to produce something special. She hopes to one day open her own patisserie/dessert tasting restaurant using the knowledge and skills that she's refined here.