To enhance and educate the palate with the freshest ingredients and flavors. We strive to surprise and excite each guest with personal care and service.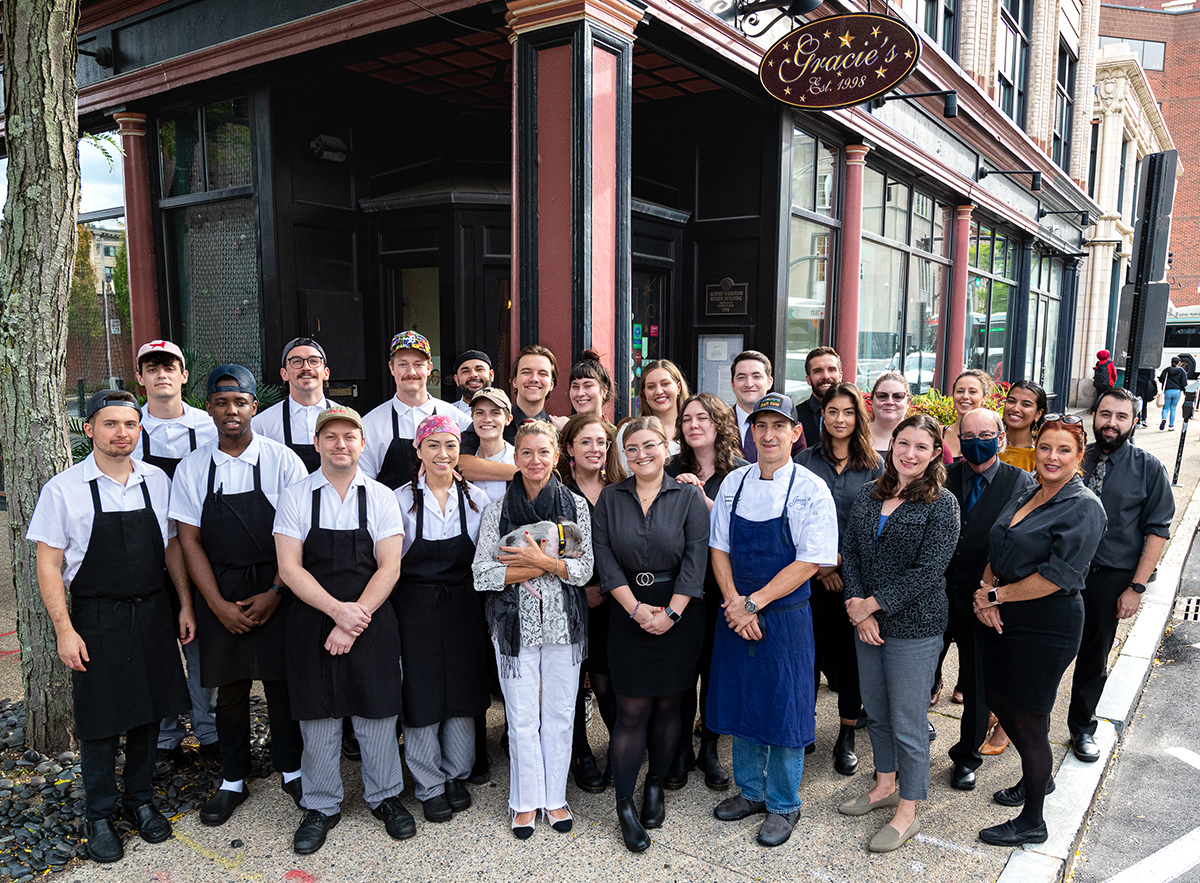 To enhance and educate the palate with the freshest ingredients and flavors. We strive to surprise and excite each guest with personal care and service.
Ellen Gracyalny
Proprietor
Ellen grew up cooking in her family kitchen, where she developed a passion for feeding people. She carried this passion from her home kitchen, through a four-year psychology degree, then to culinary school at Johnson & Wales University. She opened Gracie's on New Year's Eve in 1998. At Gracie's, she is known for building a team that is excited about culinary artistry, wowing guests, and championing locally sourced food. Most nights, she can be found working the line, chatting with guests, or encouraging her staff to "wish it, dream it, do it."
In 2012, she opened Ellie's as an extension of the bread program at Gracie's. With Ellie's, Ellen and her team strive each day to stand out in the community as a loyal, soulful, nourishing neighborhood eatery.
Chef Matthew Varga
Executive Chef
Chef Varga is from Connecticut, where he would spend his childhood days crabbing, fishing, and soaking in the aromas of his family's busy kitchen. He began his culinary training by taking food and baking classes in high school, and started his first job in a restaurant at the age of 16. Chef Varga attended Johnson & Wales University, where he received his associate degree in culinary arts in 2003, and his bachelor's degree in food service management in 2005.
Chef Varga began working at Gracie's in 2007 and was promoted to Executive Chef in 2010. Since then, Gracie's has won the AAA four-diamond award five years straight and received three Diner's Choice awards from Open Table. Chef Varga has been featured in Art Culinaire and as a guest chef for the Democratic Governors Association Taste of America gala.
Evan Little
Service and Hospitality Leader
Evan Little is a Rhode Island native hailing from Hope Valley. He started his restaurant career in the humble beginnings of a small Chinese restaurant in South County as a busboy. After that, he knew that hospitality was the road he needed to travel. He's worked in many positions over the years, from fry cook to a bouncer and everything in between. Evan's work ethic paired with his drive to work with quality food and people brought him to Gracie's in 2016. Here at Gracie's, he is honing in on his exceptional attention to detail and gaining a deep desire to cultivate a team by encouraging continued education, positive and actionable feedback, and listening to his team and guests. Evan's perseverance and hard work earned him the Service and Hospitality Director's role at Gracie's in 2020. Evan helps his team tell the story of the seasons through food and beverage, striving towards excellence daily by empowering his colleagues.
Yves

Andre
Pastry Chef

Yves Andre was born in Port au Prince, Haiti. He spent the majority of his adolescence growing up on the tail end of Long Island. It was there that he began his hospitality journey alongside family, cooking and at-home baking.
You would either find him fishing off the beach and docks with his uncle or foraging berries, vegetables, and herbs near farms and local vineyards. He was always taking the days' bounty home to supper.
Yves' passion and love for food only grew from there. He attended The Culinary Institute of America to establish and fortify a solid framework of foundational skills and techniques. He continues to seek challenges in kitchens that provide environments for his skillset and passion. He gathers inspiration for his food from his heritage, and queer personality, and combines local and fresh flavors to create memorable dining.
His enthusiasm and drive for food, life, and culture only help those around him grow and flourish as well. Here at Gracie's, the working environment provides a melding of phenomenal dedication, passion, and skill, which only better provides the guest with the perfect fine dining experience. He is a great and valued addition to the team! 
Maria Ritchey
Private Events Hospitality Leader
Growing up in rural Ohio, Maria developed a deep appreciation for farm fresh food. She was raised in a large family and was always involved in preparing dinner. During high school, she joined a Culinary Arts Program with the goal of attending Johnson & Wales. To gain more experience, she worked on the line and ran food at City Square Steakhouse in Wooster, Ohio.
For Maria, moving to Providence opened up the world of fine dining and Gracie's was the first place on the map. She was hired in 2017 as a Food Runner and quickly became a Back Server. In 2019, she worked as a line cook at Ellie's as they grew and transitioned to their location on Weybosset. Since then, she has worked at Rhode Island Hospital and at Farm Fresh Rhode Island's Harvest Kitchen Program, managing the kitchen and coordinating catering. Staying part of the Gracie's & Ellie's family was always important to her and has held several part-time positions, including Banquet Captain, Pastry Assistant, Host, Back Server, and Line Cook / Barista. She is eager and excited to use her extensive knowledge to build unique and special events.

Giulianna Galiano
Communications and Development Leader
Giulianna is a Jersey girl at heart, growing up amongst a large Italian American family of which celebrated food, wine and good company any chance they could throughout her childhood. She was taught how to cook by her grandmother and father. Both of her parents were artists and gardeners so Giulianna immersed herself in "the arts" and the concept of sustainability at a very young age. When she wanted to pursue writing in college, she was also encouraged to explore culinary school to create more of a direct career path which would encompass her love for hospitality and food. After frequenting The Culinary Institute of America and majoring with a B.A. in culinary arts management, she spent some time traveling to Italy on a few trips where she got to network with farmers, Chefs and study Italian wine as well as their ingredients. Giulianna has experience in front of house management, cooking, event planning, human resources and running her own account from private golf clubs and restaurants to corporate settings.
Giulianna serves as the ventures' Human Resources representative, as well as structuring behind the scenes systems that help the operations run more efficiently. She can help Teammates resolve any personnel issues as well as aid in providing resources and support for both leadership and Teammates to enhance the development and growth of the organization.